Ta-da. I bring you new video. I saw "The Devil Wears Prada" yesterday (for the first time ;) ). Here's the result ;)
Title:
Try
Summary:
Fanvid about Miranda and Andrea relationships. Andrea is trying, trying and then trying some more. I made it as a femslash video, but you can easily watch it as a simple, general video ;)
Link:
sorry! It's currently offline.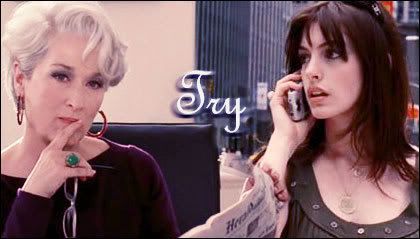 I finally managed to install Adobe Premiere (last time I had it 3 years ago, on my old computer). It's pure joy to work with (especially after Movie Maker). And I'm very happy with the outcome. I hope you'll like it too.
(
Collapse
)