Well, as you can imagine, it was a hell of a pairing to make video for. By the end I was gonna kill myself. But in general I'm really pleased with a result. And I managed to make it positive and lovely, rather than depressing and moody :) Yay for me! :))))))

Title: "Your song"
Music: by Elton John :)
Pairing: Krum/Cedric (and in a weird way - Stan/Robert)
Summary: Krum's POV. He's giving what he can to Cedric.
Warning: Contains many scenes from GOF movie - if by any chance you haven't seen it, you better not download that vid. It's highly spoilery.
Download:
1) here (10 mb, good quality)
2) or here (4,5 mb, not so good quality ;) )

(P.S. - I had that idea, that if Krum stopped Cedric in the maze, he woudn't have died. But it's not the main thought of the video, though.
Oh, and that small person in a beige jacket in the beginning of Quidditch is Cedric. Just so you know :) ).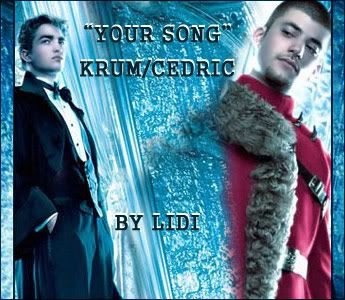 Please, comment and tell me what do you think about this video. It'd mean a lot to me. Really!!!


song lyrics + words ;)


bold selection is mine, so forgive me. I was giggling white editing it :)



- You'll get boyfriends and girlfriends this time, right?
- Sorry?
- There's a lot of loving in this film.


- It's amazing how many girls are here. I can't see a single guy in the audience.


-Um, well, my imagination is quite broad, so...






Elton John - Your Song

It's a little bit funny this feeling inside
I'm not one of those who can easily hide
I don't have much money but boy if I did
I'd buy a big house where we both could live

If I was a sculptor, but then again, no
Or a man who makes potions in a travelling show
I know it's not much but it's the best I can do
My gift is my song and this one's for you

And you can tell everybody this is your song
It may be quite simple but now that it's done
I hope you don't mind
I hope you don't mind that I put down in words
How wonderful life is while you're in the world

I sat on the roof and kicked off the moss
Well a few of the verses well they've got me quite cross
But the sun's been quite kind while I wrote this song
It's for people like you that keep it turned on

So excuse me forgetting but these things I do
You see I've forgotten if they're green or they're blue
Anyway the thing is what I really mean
Yours are the sweetest eyes I've ever seen



Oh, and if you like my videos or icons, feel free to friend me! I'll be happy :)